Screw Compressors
WITH REFRIGERANT DRYER
The compact and robust
ADDITIONAL TO THE COOLMASTER®
Are you still looking for the optimum compressed air supply? With the RSK-PRO screw compressors and the COOLMASTER® you have the solution for industrial and robust continuous operation.
Today, oil-injected screw compressors provide the most modern and economical way of generating compressed air in the corresponding capacity range. The effective refrigerant dryers in conjunction with suitable filter systems ensure the best compressed air quality (Class 3) and operational reliability. For food and medical technology applications, there are also the complementary series of oil-free scroll compressors.
The very quiet screw compressors with refrigeration dryer and matching separator systems are available for our COOLMASTER®, with a capacity of 5.5 kW and 7.5 kW and optionally with two 90 litre reserve containers each. Also available up to 50KW power and more.
Powerful compressed air supply as an optimum supplement to our COOLMASTER® dry ice blasting unit.
Further Compressors // Compressed air solutions on request.
VORTEILE:
HIGHER DELIVERY RATES due to optimized sling arrangement of the belt around the pulley
LONG SERVICE LIFE AND EASY MAINTENANCE thanks to automatic belt tensioning via a motor rocker
LOW SPACE REQUIREMENT due to compact build
EXCELLENT AIR QUALITY AND OPERATIONAL RELIABILITY thanks to a highly efficient cooling systems
OPTIMAL OPERATING TEMPERATURE IS REACHED VERY QUICKLY through thermostatic oil control
LOW NOISE AND LOW VIBRATION OPERATION thanks to effective sound insulation and design
MAINTENANCE-FRIENDLY thanks to easily removable doors and easily accessible maintenance components
HIGH QUALITY STANDARD with standard components "Made in Germany"
USER-FRIENDLY to functional and clearly arranged instrumentation panel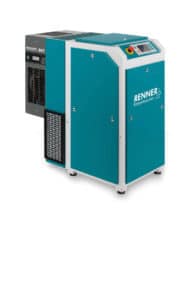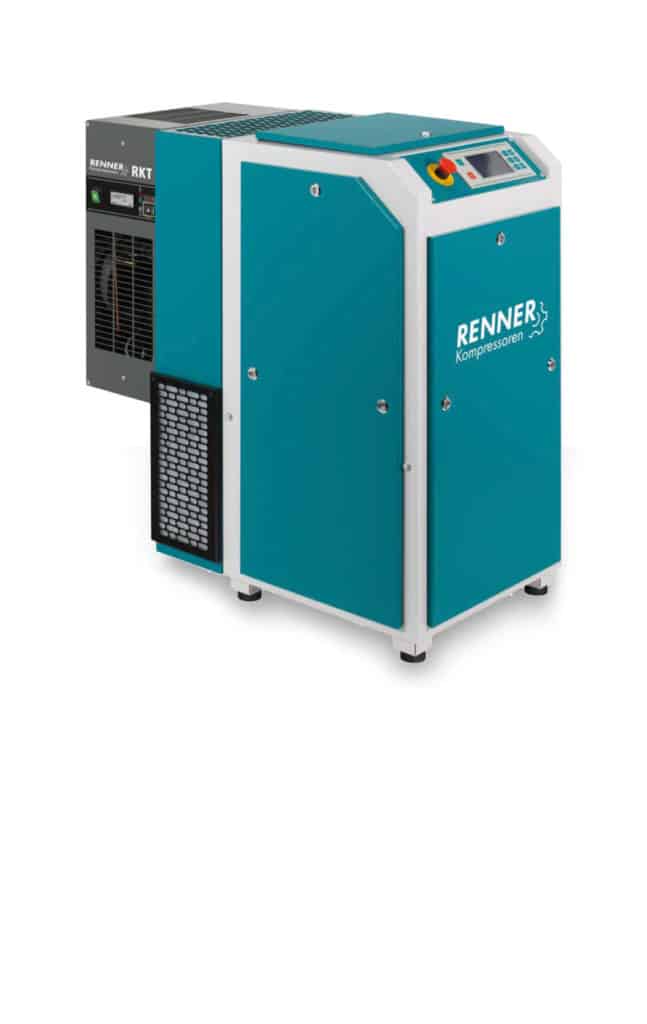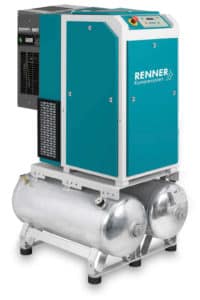 Technical data RSDK-PRO
with 2 x 90l air receiver :
(1) according to ISO 1217 Annex C (2) according to DIN EN ISO 2151:2009(3) with rear duct silencer / with super rear duct silencer (4) Type examination is available. (5) with rear duct silencer