Blast cabinet BLOWMATIC
meets COOLMASTER®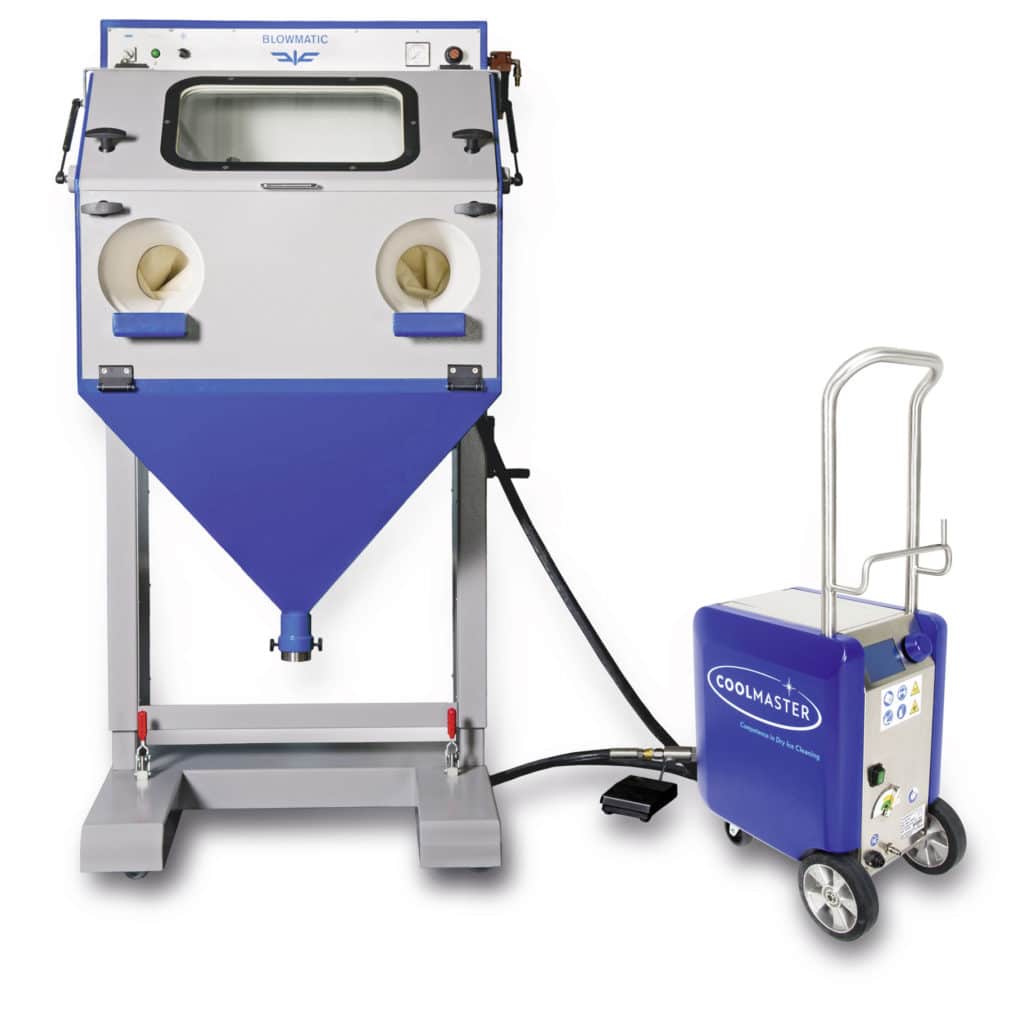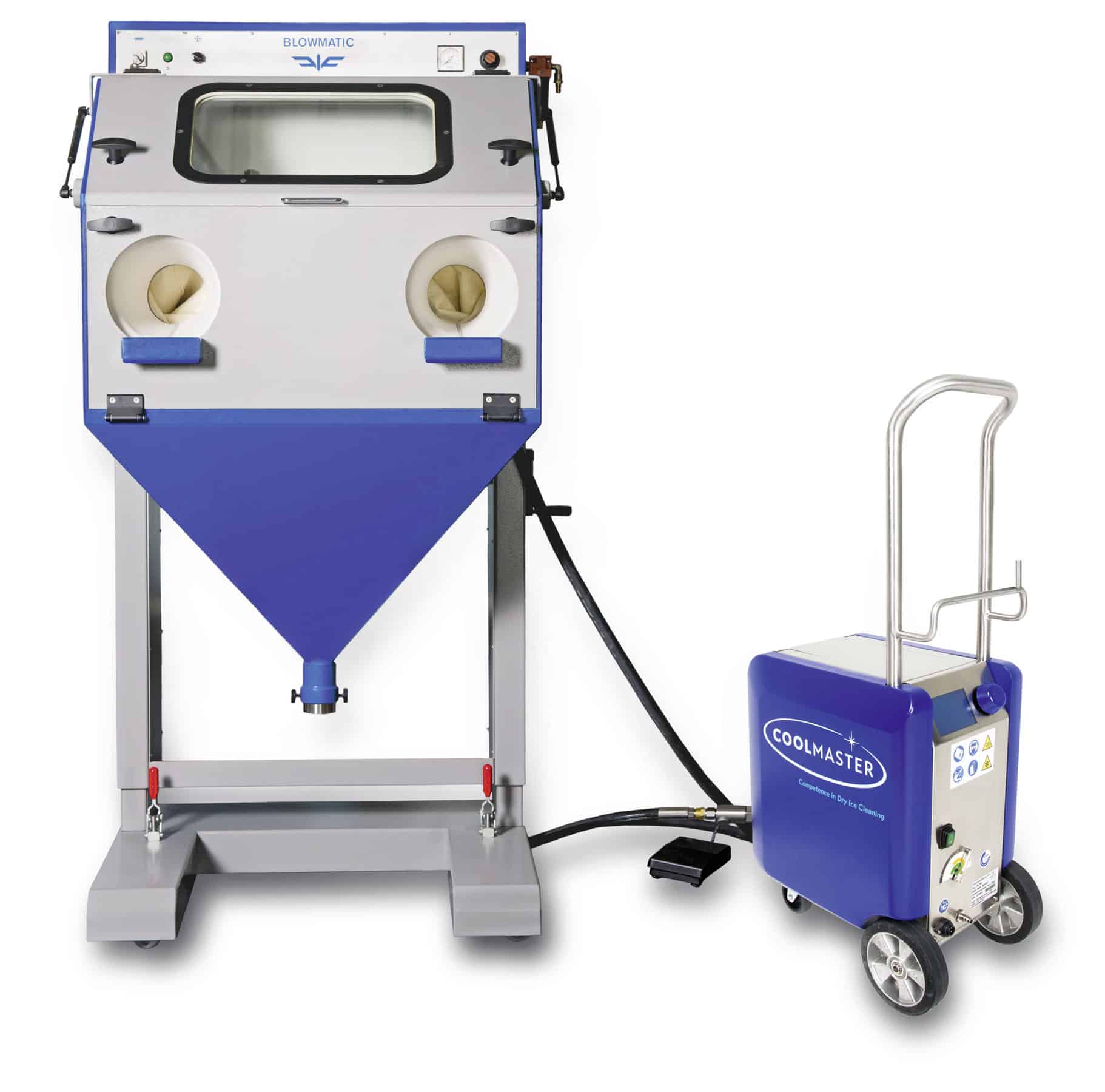 Technical cleanliness
in additive manufacturing
With the blast cabinet BLOWMATIC and COOLMASTER® an efficient, manual cleaning and deburring of small parts is possible. The user grasps the sensitive parts and the blasting nozzle of the COOLMASTER® via integrated arm cuffs and gloves.
Sealed off in the cabin, the parts are gently cleaned with dry ice without blasting agent residues or particle contamination. Cleaning and gentle removal of support materials.
Surfaces of sensitive components such as injection molds and 3D printing parts up to CNC milling, turning and grinding parts can be quickly cleaned and reworked.
Optimal for surface treatment of workpieces with dimensions of width 500 x depth 400 x height 250 mm.
Compact and space-saving on 2m² with the mobile COOLMASTER® the solution for technical cleanliness without surface damage in your production.
Front flap door supported by gas-pressure cylinders can be opened up to the working height of the micro blasting equipment, with integrated inspection window with a safety and an attrition-proof glass (double glass) in a quick change frame
Cabin lighting
Manual, hydraulic adjustment of height (maintenance-free)
2-feet system with built-in rollers, moveable, can be locked manually
Working grate made of perforated plate, two-piece, detachable, diameter of holes 5 mm
Padded sleeves and gloves, exchangeable
Holding device for microblasting gun with swinging arm for COOLMASTER® nozzles height 115 mm, swiveling range 275 mm
Ventilator for high surface microfilter unit, electronically continuously variable
Foot actuated switch with impulse contact
Compressed-air connection, 1/4" G, at equipment, including oil and water separator
Control panel with all necessary switches and control elements
Key-operated switch, on / off, with 2 keys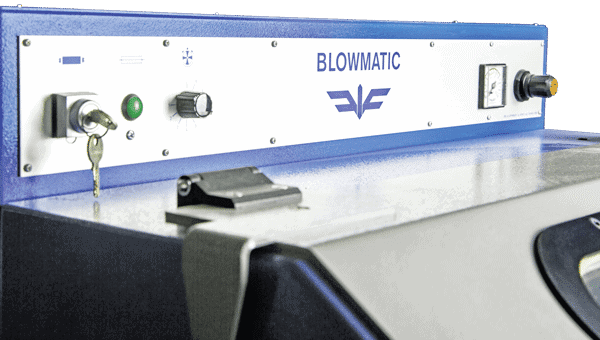 Hose package for COOLMASTER® with foot switch: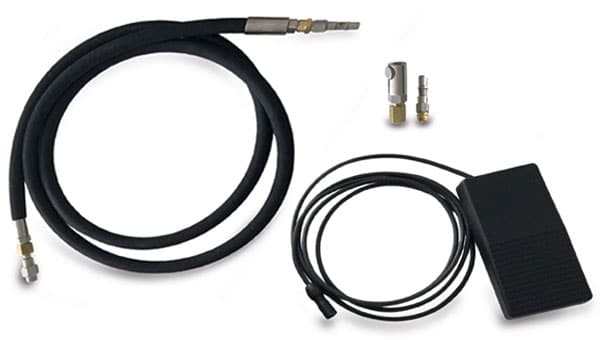 Would you like further information or a personal live presentation?
Simply give us a call +49 71 21 – 6 79 30-0